Prominent Functions of Excel to vCard Converter Software
Below mentioned are some of the most highlighted features of the Excel to VCF conversion application. This software is capable of extracting multiple contacts from MS Excel (XLS, XLSX or CSV) file into single as well as multiple VCF files.

Complete Preview of Excel File Contacts
When you load your Excel file for converting from XLS to VCF format, get complete preview of saved contacts in Excel file. You will be able to see table of contacts in rows & columns of the Excel sheet with the contacts and other data in it.

Supports Excel XLS, XLSX & CSV Spreadsheets
Tool is capable to convert contacts from both .xls and .xlsx as well as CSV databases. So that you can employ Excel to VCF conversion for files belonging to entire versions of MS Excel including; Microsoft Excel 2000, 2003, 2007, 2010, & 2013.

Unlimited Excel Contacts Conversion Offered
Convert multiple contacts from Excel spreadsheet into VCF. This Excel to vCard converter tool is being tested on almost 40,000+ contacts & found to be suitable tool for converting limitless contacts from XLS, XLSX or CSV file into vCard.

Offers Conversion to All vCard Versions
This Excel to VCF conversion software allows conversion of contacts from Excel sheet into 3 distinct vCard versions i.e. vCard 2.1, vCard 3.0 and vCard 4.0. Users can select any edition of vCard depending on their requirements.

Create Separate VCF File for Excel Contact
By default XLS to vCard conversion software creates separate vCard file for each contact. So, you can create individual VCF file for each contact address saved in your Excel sheet. Creating a separate VCF file is always convenient.

Export Multiple Contacts into Single vCard
Excel to VCF export tool automatically exports all contacts of Excel file into separate VCF files but in case you want to create single vCard file for all contacts, then you can avail the option of "Single vCard File for All Contacts".

Empty Email Address Conversion Allowed
This Excel to vCard converter tool allows an option to export contact with empty address field. To export such contacts into VCF file, you need to enable "Allow empty email address to be imported" option in the software.

Provision of Excel & vCard Field Mapping
To sync the data fields properly a mapping option is available. You can choose the data entry from the columns provided and map it with the options available in other column from drop down menu to map the columns as per your need.
Download Free Demo Version of Excel to vCard Conversion Tool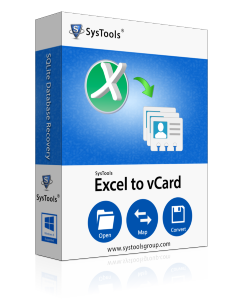 Demo Version Limitation
With Demo version of Excel to vCard conversion software, convert all Excel contacts into VCF file but stores contact of Email Address as '***Demo ***@Demo.com'. Incase of phone number only first 8 characters or no.s will be saved.

Online Presentation of MS Excel to vCard Converter Tool
Get Appropriate Answer of All Common Queries
Will the software be able to convert multiple sheets of contacts?
There are multiple sheets within my Excel file that has contacts listed on it. Will the software include all sheets too?
Yes, the software loads and converts contacts from the entire Excel file regardless of the number of sheets maintained within.
Is it possible to work with this convert Excel to vCard tool on a Windows 8 machine?
Yes, the software supports Windows 8 as well as all below versions of the Operating System.
Do I need to have Outlook on machine to import output vCard on it?
I need to import the output vCard on my Outlook (configured on a different machine). Is it necessary to convert contacts on a machine having Outlook to make the vCard importable on it?

No, the convert Excel to vCard software is a standalone and doesn't require support of an external application. You can convert contacts to vCard without the need of Outlook installation and import it on the client.
Is it possible to also preview the contents of my Excel file?
There is no suitable application on my computer to preview the Excel file. Will the software let me do so?

Yes, the software instantly loads and displays a preview of all contacts within the selected Excel file.
Will the output vCard be compatible with my Android smartphone?
Yes, you can import the vCard file on an Android smartphone, Blackberry, iPhone, as well as on a number of email clients.
Does the software create a vCard supported by Outlook?
I read somewhere that Outlook doesn't support a single vCard with multiple contacts. Does the software have suitable provisions for the same?

The Excel to vCard software offers the option to 'create a single vCard for all contacts' or 'an individual vCard for each contact', to let you choose from. Also, note that, you can choose from any of the given vCard Version, i.e. 2.1, 3.0, and 4.0 to convert the contacts.